We are open for the Christmas holidays from Saturday 17th December until Saturday 31st Décember 2022 – (closed the 25th December and the 1st January).
The castle is finally fully iluminated for Christmas holidays !
During this festive period, we are proposing activities for the whole family to share in the chateau with falconry and musketeer workshops (see below) and in the tea room in front of a hot stove.
For the workshops parents are welcome to join in the fun with their children if the sessions are not full. Our workshops are very interactive!
The brasserie is opened for lunch ! In front of the fire place, come enjoy a taste of the meals elaborated by our chef as suggestion for Christmas and some deserts that will remember of childhood.
Finally, for the chilliest amongst us, the chateau is well heated and the exterior (facade and gardens) is well lit for everyone to discover at nightfall the particular atmosphere that is Milandes.
No extra charge for the activites.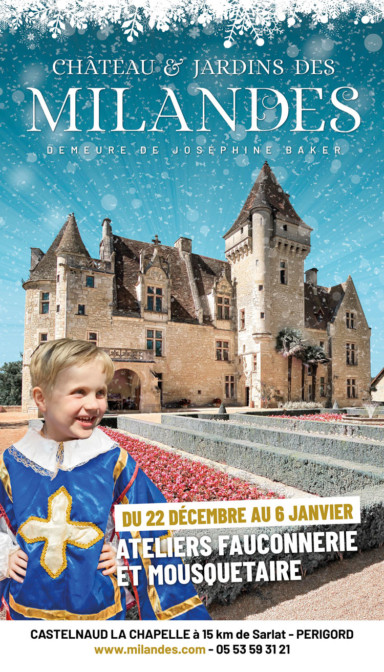 ҿ
Musketeer workshop: "Sword in hand" (children from 8 to 88 years old)
If your children would like to have a go at fencing, then share a lesson with Lord de Caumont-La Force!
From the 18th to 24th December and from the 26th to the 31st December 2022 at 2.30pm and 4.30pm (the 24th December only at 2.30pm).

Children will be welcomed by the son of Lord de Caumont who is looking for aspiring musketeers to present to the king. Attacks, parries, dodging: the workshop lasts 30 minutes and takes place in the 'Aula' of the castle, the Lord's living quarters. At the end of the workshop, the children can show their parents the art of combat that they have learnt. There is no supplement for the animations.
Places limited to 12 children.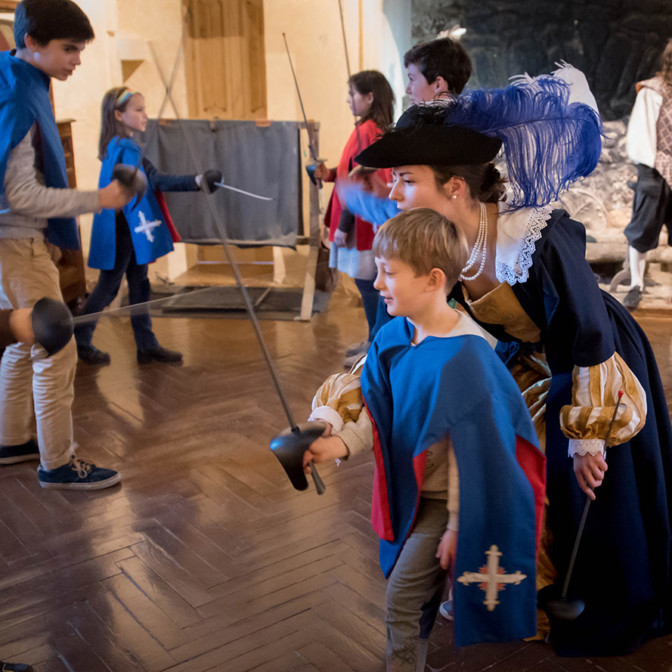 ҿ
Falconry workshop for children (Children from 5 to 13 years)
Come and play in the chateau as a princess or a falconer! Discover the world of birds of prey - handle some falconry accessories. Surprises await you.
From the 18th to 24th December and from the 26th to the 31st December 2022 at 11.30am.
For this workshop the children are invited to learn the art of falconry. The whole family is invited to participate, within the limit of the number of places available: max. 15 children per workshop.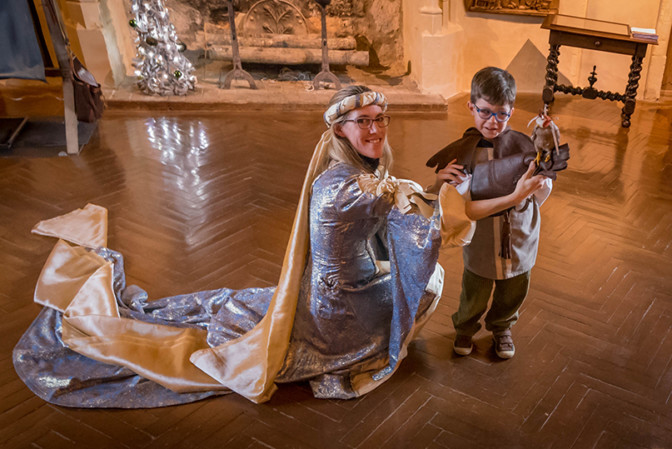 Reservations for the workshops are strongly recommended at 0033 (0)5 53 59 31 21 or on the Facebook or Instagram pages "Chateaudesmilandes".