Plan your visit
Individual
The visit can be enjoyed in different ways depending on individual tastes. We know that our visitors like to stroll around the castle, the gardens and enjoy and appreciate all we have to offer. Our visitors have several options available to them.
NEW FOR 2023! The opening of the chapel, a jewel of the early 16th century!
Click HERE to see our leaflet 2023 !
The castle can be visited using one of our audio-guides (included in entrance fee) from our reception desk.
This comprehensive audio-guide allows visitors to have information on the architectural elements of the castle, the history of the Caumont family and enables you to better understand Josephine Baker's life.
The audio-guides (available in several languages) enables our visitors to explore the castle and grounds at their own pace.
For our visitors who visit us several times a year, we suggest our loyalty card which is valid for two years.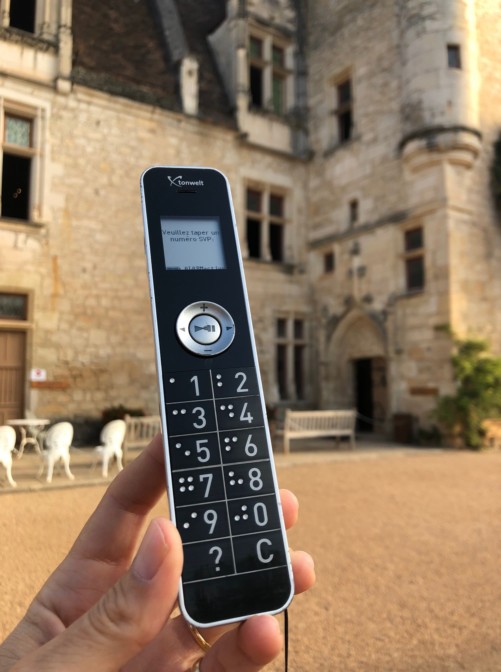 We endeavour to do everything possible to improve your visit and welcome our disabled visitors. It is important for the comfort of your visit to seek guidance on arrival at our reception area or at our castle gift shop.
Currently, only the ground floor is accessible for people in wheelchairs (15th century kitchen, kitchen, billiard room, castle dining-roomand gift shop) as well as the Bird of Prey demonstration. It is preferable to be accompanied by someone as the ground gravel in certain areas can be difficult for wheelchair users. For our visually impaired visitors and their "guide" dogs. We provide a free audio-guide for the duration of your visit (Braille keypad). Due to compatibility issues with our « birds of prey », your dog will not be able to accompany you to the Bird of Prey demonstration.
New Addition! We provide our wheelchairs users with a touchscreen tablet that enables them to have a virtual tour of all the rooms in the castle.