The castle is delighted to welcome groups of 15 persons or more: the site, labelled "Maisons des Illustres", is a superb tribute to one of the most famous Music-Hall artists, Josephine Baker!
Several tour packages are available for our groups who can appreciate the special atmosphere of the castle. The gardens, restored to their former glory in 2016, are particularly incredible.
Our group and individual visitors also have the option of having lunch in our brasserie which can accommodate up to 60 persons.
Here are the tours offered:
If your group prefers a visit in complete autonomy, the free flow visit is the most suitable. On arrival, you set off at your own pace on a visit with our comprehensive audio-guide. Audio-guides are available in French, English, Dutch, German, Spanish, Italian, Russian and Chinese.
During this tour, you will enjoy a visit to the castle, a stroll around the gardens and a Bird of Prey demonstration. While exploring the gardens, our diurnal and nocturnal birds are visible in the upper park. Below, in the large park, two aviaries allow you to discover some of our exotic birds such as cockatiels, lovebirds and kakarikis.
NEW FOR 2023! Visiting the chapel: a gem from the early 16th century! Count 15 to 25min more in your visit program.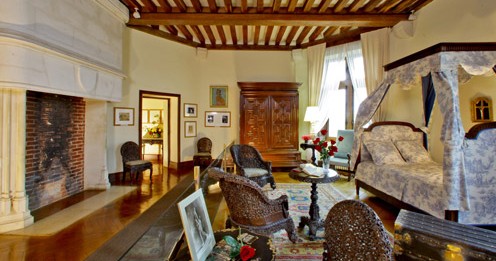 ҿ
FREE FLOW VISIT AND LUNCH
Take advantage of the self-guided tour of the castle with an audio guide, the self-guided tour of the gardens and the bird of prey show while having lunch on site. This allows you to make the most of all the services offered by the Château des Milandes!
The castle brasserie, open since 2002, is happy to welcome groups of 15 to 60 people every day between April and the beginning of November as well as during the Christmas holidays.
We have a room with a capacity of 60 people called the "chai" is located behind the restaurant building; This is the upper part of the cellar built in 1900.
Please let us know if you have any allergies or intolerances.
Several menus are offered in 2023:
THE MILANDES MENU at 19€/person
THE JOSÉPHINE MENU at 24€/person
THE "J'AI DEUX AMOURS" MENU at 29€/person*
THE OWL MENU at 9€/person for children under 10 accompanying a group
*The "I have two Loves" menu is also available as a main course/cheese/dessert/quart of wine and coffee at 23€/person for snacks.
Discover the details of our menus in our 2023 brochure.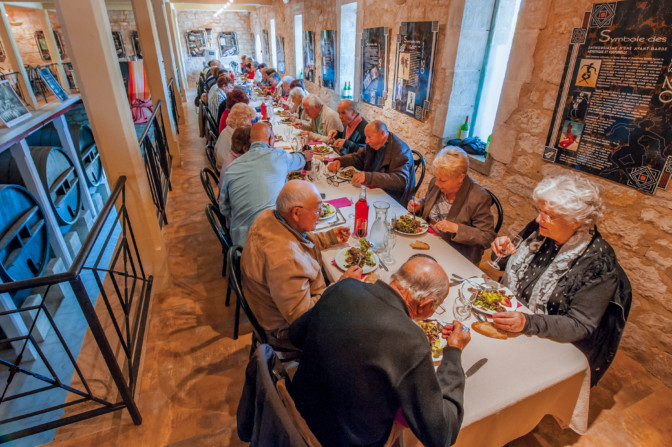 Ѵ
GROUP VISITS FOR PERSONS WITH DISABILITIES
We welcome all groups, whether you are five or forty persons.
Please contact us directly so that we can advise and guide you to best suit the needs of your group.
One guide has free entry for every 5 disabled persons.