Birds of Prey Display
A fun presentation of protected species
The castle's six hectare park allows our 60 birds of prey to live in peaceful harmony amongst the surrounding stone and nature of the valley.
Our falconers Patrick and Steeve are delighted to present in an exciting and educational demonstration « their birds », a dozen diurnal and nocturnal birds of prey, (we promise, you will not be the prey!).
Nevertheless, for your own safety, please do not try to interact with the birds. Each demonstration creates superb photographic opportunities. In addition to the daily demonstrations, you can visit our birds individually as you wander around the gardens. The Birds of Prey demonstrations are set in the square on the north side of the castle in front of the Renaissance facade of the building overlooking the Dordogne Valley.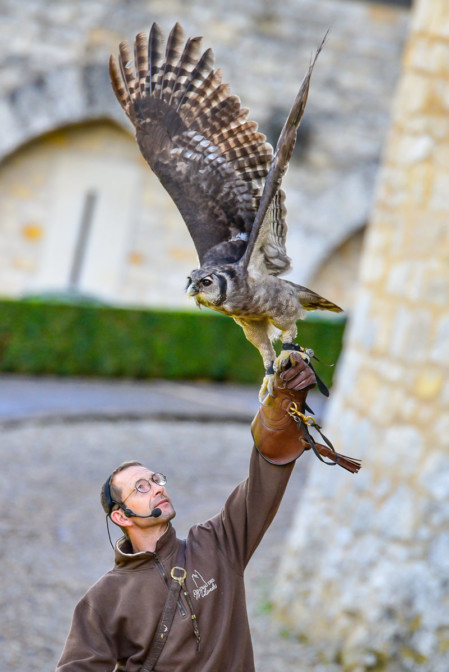 Demonstration Times:
The time indicated is when the demonstration begins so please arrive before this (in summer, plan to arrive at the ticket booth at least 30 minutes before the starting time).
Please note : there is no Bird of Prey display during the winter months.
| | | | | | | |
| --- | --- | --- | --- | --- | --- | --- |
| From 1 January to 25 March 2023 | From 26 March to 7 April 2023 | From 8 April to11 July 2023 | From 12 july to 30 August 2023 | From 31 August to 30 September 2023 | From 1 October to 5 November 2023 | From 6 November 2023 until the end of March 2024 |
| No bird demonstration | 3.00pm | 11.15am, 3.00pm, 4.30pm | 11.15am, 2.30pm, 4pm, 5.30pm | 11.15am, 3.00pm, 4.30pm | 11.15am, 3.30pm | No bird demonstration |
From 1 January to 25 March 2023
From 26 March to 7 April 2023
From 8 April to11 July 2023
From 12 july to 30 August 2023
From 31 August to 30 September 2023
From 1 October to 5 November 2023
From 6 November 2023 until the end of March 2024
No bird demonstration
3.00pm
11.15am, 3.00pm, 4.30pm
11.15am, 2.30pm, 4pm, 5.30pm
11.15am, 3.00pm, 4.30pm
11.15am, 3.30pm
No bird demonstration