November 2018, work on the outer facade of the chapel begins.
December 2019: Completion of the exterior work!
2021 will be the year when the interior restoration gets underway.
Project manager: Julia Riché (Heritage Architect).
Exterior Facade:
Total estimate: approximately 330,000 euros excluding VAT
Estimated duration of work is 6 to 8 months
Interior work:
Total estimates: approximately 570,000 excluding VAT.
Wall Murals: 100,000 euros excluding VAT based on 8 months restoration work.
Masonry: 450,000 euros excluding VAT (duration 10 to 12 months).
Joinery: 20,000 euros excluding VAT.
We have not received estimates to date for the installation of stained-glass. Three of the large chapel windows as well as the rose window (installed in 2019!) are awaiting this work to be completed.
The Mininstry of Culture is following our restoration work with great interest:
Adeline Rabaté
Curator of Historical Monuments
Muriel Mauriac
Curator of Historical Monuments
Dominique Peyre
Curator of Historical Monuments
Xavier Arnold
Architect, Buildings of France
Hervé Gaillard
Engineer at the Regional Archaeological Service
Building permit filed spring 2018 for exterior work.
Building permit pending in Autumn 2020 for the interior work.
ҿ
2021: INTERIOR PROJECT OF THE CHAPEL RESTORATION What an adventure!
What an adventure!
With the current health crisis, work is delayed, but we are not losing hope and wish to resume restoration work as soon as possible with the company "Les Compagnons Réunis".
September 2020: Our conservator, Mélissa Donadéo, works on consolidating the chapel murals.
Filing the building permit will allow us to continue our work in several stages: the arches and ridges to the west and north side of the chapel; the chapel floors; and the upper gallery.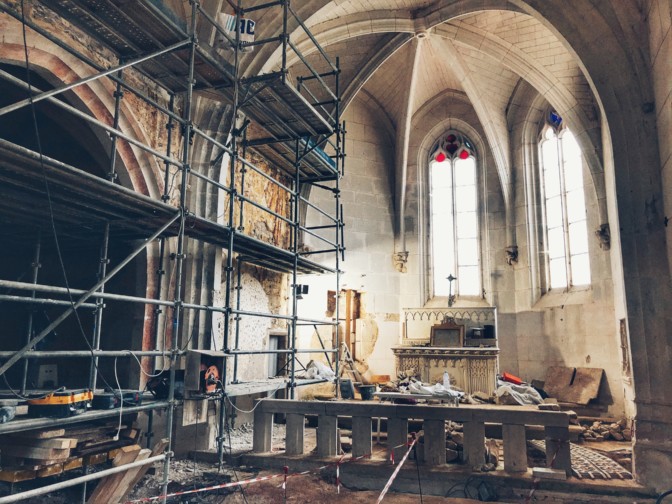 ҿ
2023 : INAUGURATION OF MILANDES CHAPEL
We hope that the castle chapel reclaims its 16 century glory.
The chapel will open to the public at the beginning of May 2023. However, if the restorations and fittings end earlier, we can plan an early opening.
Our visitors will be able to appreciate five years of restoration work, a remarkable testimony to a Roman Catholic seigneurial chapel. The first owners, François de Caumont and Claude de Cardaillac were buried there in 1514; Josephine Baker and Jo Bouillon were married there 450 years later!